Huhuuuu meine Freunde!
Ja Halloween ist erst am Montag, ich weiß. Dazu habe ich auch etwas vorbereitet. Ich bin aber heute tief in die mit Spinnweben verhängten Archive gewandelt und habe im Schein von Kerzenlicht einen Ordner mit Bildern gefunden. Mit Bildern, die ich eigentlich nie wieder zeigen wollte, da sie schon damals so verstörend auf die Zuschauer gewirkt haben. Wer mich aus den alten Vorzeiten kennt und noch lebt, mag die Bilder vielleicht noch kennen...
Aber jetzt eine ehrliche Warnung: Wer meinen Füßen besonders zugeneigt ist, sollte lieber nicht gucken. Aber wer sagt, dass Karinas Füße mal ordentlich bestraft gehören, weil sie nicht jeden Tag neue Bilder macht (und alleinig dafür schauen wir ja auch nur rein), wird seine Freude daran haben.
Ich erinnere mich nur noch höchst unangenehm an meine Zeit in der FOLTERKAMMER...
Whohoooo, my friends!
I know that Halloween is on monday and I also prepared something for that day. But today I was deep in the dungeons of my picture archive. And under candlelight I found some terrorizing picutres. I never wanted to show them again, because when I showed them the last time, people were so disturbed and I think not many of them lived till this day....
But here is a honest warning: If you care for my feet, do not watch. If you say that Karina's feet should be punished, because she does not make new pictures everyday (and we are just here for that), you will enjoy it.
For myself I just remember some very unpleasent time when I entered the CHAMBER OF TORTURE...
Welcome to the Dungeon
Terrorize her with clothes-pins: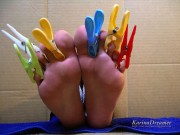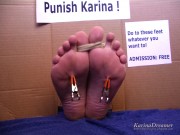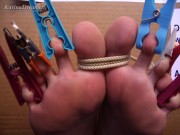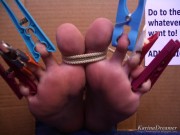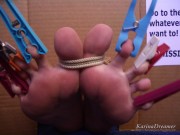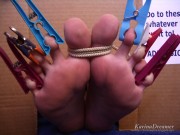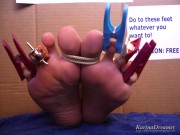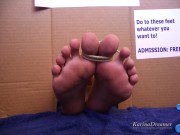 Tickle her mad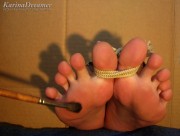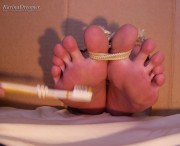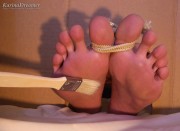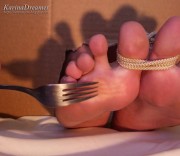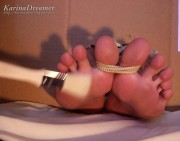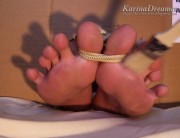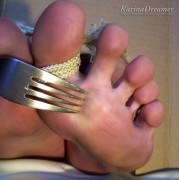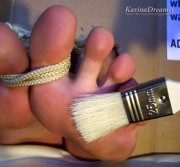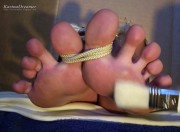 Squeeze her toes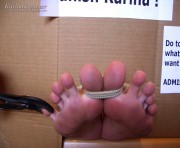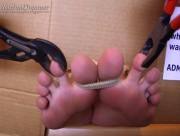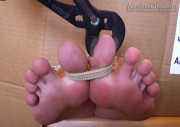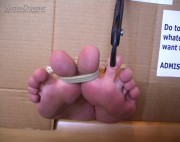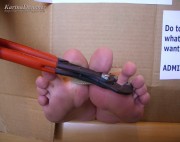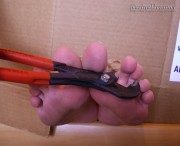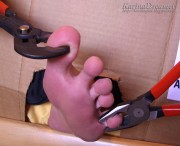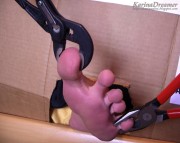 Bind her tight: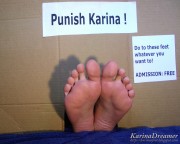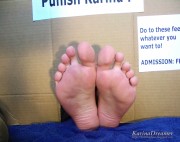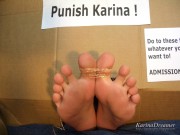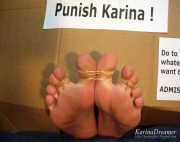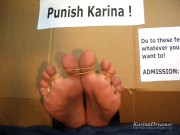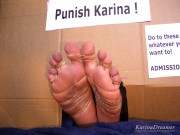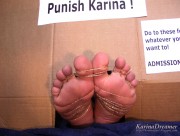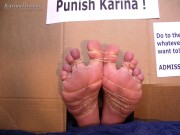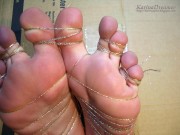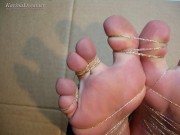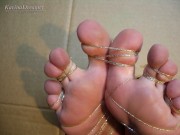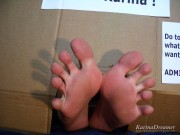 Force her to spread her toes: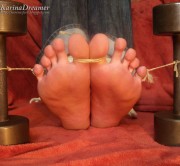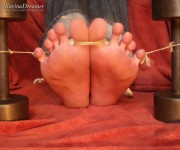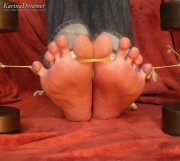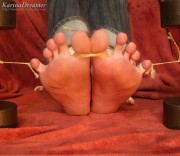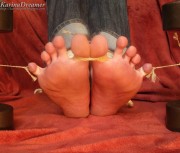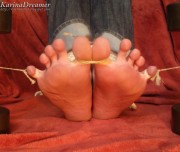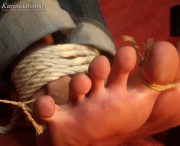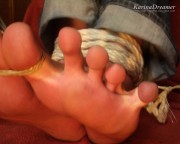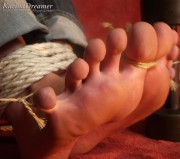 Anmerkungen, bevor jetzt schockierte Leser fragen stellen:
Wer hat deinen Füßen das angetan?
Ja ich natürlich.
Hat das wehgetan?
Naja, es ist schwierig aus solchen Positionen alleine Fotos zu machen und da haben mir am Ende am meisten der Rücken und die Bauchmuskeln weh getan. Ok. die Wäscheklammern haben dann wegen der langen Dauer des Shootings doch etwas gezwickt und das Zehenspreizen war auch nicht so ganz ohne, hihi. Aber seid versichert, insgesamt war das alles harmlos. Da habe ich größere Schmerzen, wenn niemand Comments schreibt *lach*
Bist du eigentlich komplett verrückt, sowas zu machen?
Ja, aber das solltet ihr eigentlich schon wissen....
Notes (before you are totally shocked):
Who did these horrible things to your feet?
Well me. Who else?
Did that hurt?
Well it is very difficult to make such pictures alone. So most of all my back and my stomach muscels hurt. But that is nothing new to me. Ok, the clothes-pins twitched a bit after a while and that forced toe-spreading was not very pleasant. But I can assure you, nothing really did hurt me. It hurts me more when people do not write comments *laughing*
Are you totally crazy, doing things like that?
Yes I am, but you should know that.