ich habe ja schon oft mal darüber gelabert, warum ich gerne barfuß bin. Da ich damit wahrscheinlich nicht alleine bin, wollte ich mir aber auch gerne mal eine fremde Meinung einholen. Deshalb habe ich einfach mal die liebe Serenity auf DeviantArt angeschrieben, ob sie dazu nicht einfach ein kleines Statement abgeben könnte. Denn sie hat so oft betont, dass sie gerne barfuß ist. Mich hat es wahnsinnig gefreut, dass sie geantwortet hat, aber lest das einfach selber mal nach und erzählt mir einfach auch noch was darüber...
Hi my dear friends,
I often talked about that I like to be barefoot. And because of the fact, that I am not the only one who likes that I just want to give you a statement about that from another woman. I just asked the wonderful Serenity from DeviantArt, if she could write me a short statement about, why she loves to be barefoot. And it is so nice that she answered me. Just read it and let me hear your thoughts about being barefoot....
ENGLISH:
SERENITY: Well, I like being barefoot because I like the feel of fresh air on my toes, and the feeling of grass/pavement, etc.. under my soles. I love the feeling of flooring under my barefeet too! Socks and shoes get uncomfortable, and if it`s hot your feet get sweaty.. I just like keeping my feet cool, plus, I like having them show because I think my feet are very pretty. : ) and I always play with my toes when i`m sitting down.
KARINA: Yes, your really have very beautiful feet . I like them. I like to feel things with my feet too. Being barefoot is for me like feeling free.
But just one additional question: If you are barefoot so often, how do you keep your feet so pretty and your soles so soft.
SERENITY: Thank you! And I clean my feet each day, moisturize and use baby oil on them. : )
I totally agree what Serenity said about being barefoot. But now it is your turn.
What do you like about being barefoot? Or do you like to be barefoot?
What do you think about girls who enjoy to be barefoot?
I want to thank Serenity for having her on my blog. It would be nice if you would write some comments about her and her cute feet too. I think she will read it and maybe we will make a whole interview together.
Serenity's DA-Channel:
Sachi-Chan1200
DEUTSCH:
SERENITY: Also ich bin gerne barfuß, weil ich einfach gerne das Gefühl von frischer Luft zwischen meinen Zehen und auch gerne Gras/Straßenbelag etc. unter meinen Sohlen spüre. Ich liebe es auch den Fußboden unter meinen nackten Füßen zu spüren. Socken und Schuhe werden schnell unbequem. Und wenn es heiß ist, schwitzen die Füße schnell. Ich mag es einfach lieber, meine Füße kühl zu halten. Und zusätzlich mag ich es, meine Füße herzuzeigen. Denn ich glaube sie sind wirklich sehr schön :) Und wenn ich so rumsitze, spiele ich immer mit meinen Zehen.
KARINA: Ja, du hast wirklich sehr schöne Füße. Sie gefallen mir wirklich gut. Und auch ich spüre gerne etwas mit meinen Füßen. Für mich ist barfuß sein auch ein gewisses Gefühl von Freiheit.
Aber jetzt noch eine zusätzliche Frage: Wenn du so oft barfuß bist, wie machst du das eigentlich, dass deine Füße so schön bleiben und deine Sohlen so weich?
SERENITY: Danke Dir! Ich wasche meine Füße täglich, creme sie ein und benutze Babyöl :)
Ich stimme da mit Serenitys Aussagen voll überein, aber was sagt ihr dazu?
Was mögt ihr am Barfußsein? Oder seid ihr gerne barfuß?
Was denkt ihr über Frauen, die gerne barfuß sind?
Also ich möchte mich jetzt noch mal bei Serenity bedanken. Wahrscheinlich wird sie auch die Reaktionen hier lesen. Daher wären ein paar nette Kommentare über sie und ihre Füße (am besten auch auf englisch) nicht schlecht. Vielleicht ergibt sich bei großer Resonanz ja auch noch ein Interview.
Serenity's DA-Channel:
Sachi-Chan1200
-----------------------------------------------------------------
Thank you Serenity and thank you for allowing me to show some of your great feet pictures here!
Thank you so much!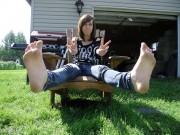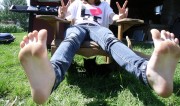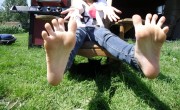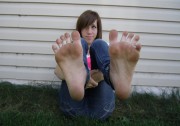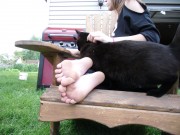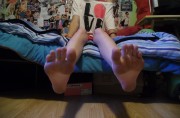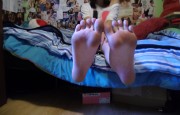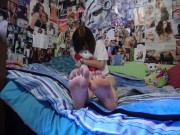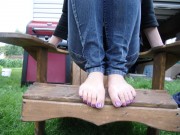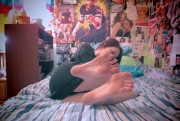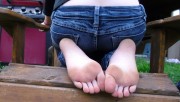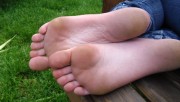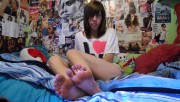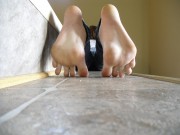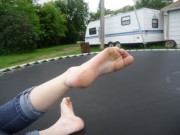 Thank you!