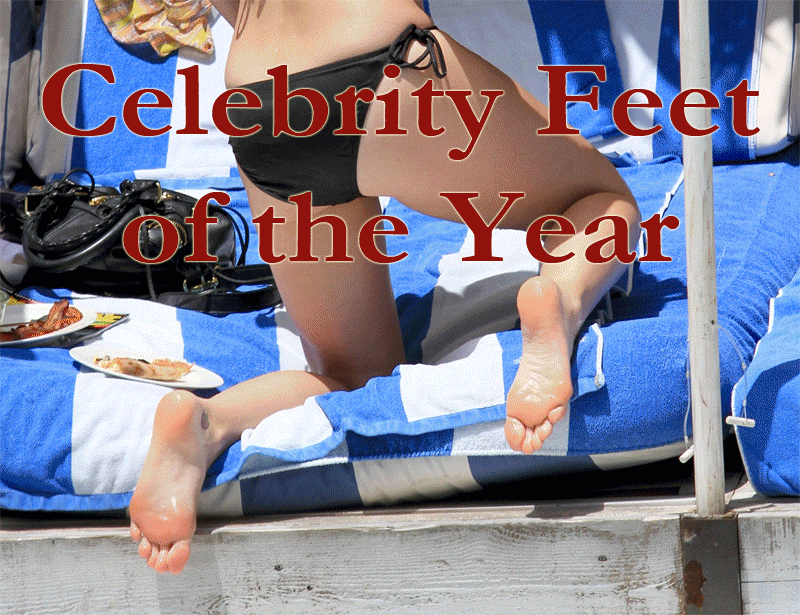 Hallo meine Lieben!
Ja, da sind die Feiertage auch schon wieder rum und das Jahr ist auch schon wieder vorbei. Da fängt man auch an, auf das (fast) vergangene Jahr zurückzublicken. Ich zumindest habe mich jetzt doch schon des Öfteren durch meinen Blog geklickt, um zu sehen, was ich eigentlich so alles gemacht habe. Da ich meine eigenen Bilder ja doch sehr gut kenne, bin ich dann immer an den Celebrity-Specials hängengeblieben. Und dabei kam mir die Idee, dass ich einen kleinen Rückblick auf die schönsten Promifußmomente des Jahres machen könnte. Also bin ich losgezogen und habe tagelang recherchiert, was es denn so für Bilder dieses Jahr gab. Der "kleine" Rückblick ist dabei dann aber immer größer geworden…., ach ich zeige euch jetzt einfach mal, auf was ich alles gestoßen bin bzw. was mir davon am besten gefallen hat….
Hi my dear readers!
Holidays are over and the end of the year is near. I for myself always start to look back on the almost finished year. So I also looked through my blog, just to see what I did so far. Because I know my pictures too well, I spent a bit more time on my celebrity postings. Then I had the idea that I could make a short review on the best celebrity feet moments this year. So I did some research for some days to find out what great celeb feet pictures we had this year. While doing this, the "short" review grew bigger and bigger….So I decided to show you those things that I found, better said, the things I liked most…..
Um es einmal vorweg zu nehmen. Dieser Rückblick ist sicherlich nicht vollständig. Es gab sicher noch mehr, was ich nicht entdeckt habe. Selbstverständlich habe ich auch viele sehr schöne Füße in zeigefreudigen Schuhen gesehen. Da das aber den Rahmen meines Blogs sprengen würde, habe ich mich auf nackte Füße beschränkt. Und natürlich ist das Ganze auch nur eine persönliche Auswahl an Promifüßen. Wenn ihr noch umwerfende Barfußbilder aus diesem Jahr kennt, könnt ihr sie mir ja in den Kommentaren zeigen. Aber wartet dafür noch den zweiten Teil ab.
So jetzt geht es aber los:

Of course, this is not a complete review. There are certainly much more pictures, that I just have not found. I also found a lot of great celebrity foot pictures in very open shoes. But this would be to much for my blog. So I just concentrated on bare feet. And of course it is just my personal selection of pictures that I show to you. If you know some more great barefoot pictures of celebrities from this year, you can show them to me in the comments. But maybe you wait for the second part of my celebrity special.
And now, here are the pictures:
KATY PERRY
Also eins der tollsten Bilder des Jahres war natürlich das Sohlenbild von Katy Perrys Füßen. Aber ich muss euch nicht noch einmal die ganze Bilderserie von Katy Perry am Pool in Miami zeigen, denn ich hatte die Serie ja schon als Special dieses Jahr.
Die Bilder findet ihr hier:
Katy Perry Bikini Feet in Miami
One of the best pictures in my opinion is the picture of Katy Perry's soles. But I do not have to show you the whole picture set of Katy Perry in Miami, because it is on my blog already.
You find the pictures here: Katy Perry Bikini Feet in Miami
KRISTEN STEWART
Also Kristen Stewart ist für mich die größte Fußüberraschung des Jahres. Irgendwie hat man sie doch bisher nur in geschlossenen Schuhen gesehen. Und was macht sie dieses Jahr? Erst ein komplettes Barfuß-Fotoshooting, dann gibt sie auch in der Öffentlichkeit barfuß Autogramme und zeigt anschließend auch noch ihre nackten Füße bei Jimmy Fallon im Fernsehen. Also das ist wirklich eine Leistung und schöne Füße hat sie ja auch. Ich hoffe, sie macht nächstes Jahr so weiter!
In my opinion Kristen Stewart ist he biggest foot-surprise this year. I only remember pictures of her in closed shoes. And what does she do this year? First a barefoot photoshooting, then barefoot in public signing pictures, and then she does a barefoot appearance on TV at Jimmy Fallon's show. This is a accomplishment and she has beautiful feet, too. I hope to see more of her feet next year!
HALLE BERRY
Ach was soll ich sagen. Halle Berry zeigt immer gerne ihre Füße. Würde ich jetzt alle ihre Flipflop-Auftritte zeigen, dann wäre der der Blogeintrag schon voll. Ich glaube da gibt es mehr als 100 Bilder alleine von diesem Jahr. Mich freut es aber auch immer wieder, sie und ihre schönen Füße auf meinem Blog zu haben.
What shall I say? Halle Berry likes to show her feet. If I would show you all the pictures of Halle Berry in Flipflops from this year, this blog entry would be exploding. I think there are more than 100 flipflop pictures of her just from 2012. But I am always glad to have her and her feet on my blog.
Deichmann Photoshooting:
JOSS STONE
Genauso sicher wie bei Halle Berry kann man davon ausgehen, dass es jedes Jahr auch Fußbilder von Joss Stone gibt. Sie tritt ja immer barfuß auf. Auch wenn mir ihr bunter Nagellack nicht so besonders gefällt, finde ich sie und ihre Füße klasse.
Just as you can bet to see Halle Berry's feet every year, you can bet that there are pictures of Joss Stone's feet. She always performances barefoot. Even I do not like her colorful toenails, I like her and her feet.
Auch in einer deutschen Fernsehsendung war sie dieses Jahr mal wieder barfuß:
She also appeared barefoot on a German morning show this year:
Wenn ihr noch mehr bewegte Bilder von Joss Stones Füßen sehen möchtet, dann empfehle ich euch ihren Youtube-Kanal:
JossStoneTV
If you want to see more of Joss Stone's bare feet in motion, check out her channel on Youtube:
JossStoneTV
ALESSANDRA AMBROSIO
So da kommen wir mal wieder zu einer alten Bekannten auf meinem Blog. Auch von Alessandra Ambrosio gibt es jedes Jahr wieder tolle Fußbilder. Natürlich sind es wieder ein paar Strandaufnahmen, denn wo sieht man die Promis denn sonst barfuß. Ich frag mich nur, ob es von ihr dieses Jahr denn gar kein schönes Barfuß-Fotoshooting gab. Oder habe ich das einfach nicht gefunden. Naja, dann halt Strandbilder…
She is not new to my blog. Every year there are some barefoot pictures of Alessandra Ambrosio. Taken at the beach of course, because it is the place where you meet barefoot celebrities most often. But why is there no good barefoot photoshooting of her this year? Or couldn't I just find one?
Edit: Oh, da hat sie es ja doch noch geschafft, pünktlich zum Jahresende ein Fotoshooting zu machen. Und ja, mal wieder am Strand *lach*. Also ich würde sie gerne mal in anderen Locations sehen.
Edit: Oh, just in time at the end of the year she finally did a photoshooting. Ok, on the beach again. I would really like to see her in other locations too.
CLAIRE DANES
Wenigstens macht es Claire Danes richtig und lässt ich auch professionell barfuß ablichten. Mich hat es sehr gefreut, mal wieder was von ihr zu sehen, auch wenn die Bilder etwas unscharf sind.
At least Claire Danes does it right and let a professional photographer make pictures of her barefoot. I was really happy to see something of her again, even the pictures are not very detailed.
EMILIE DE RAVIN
Und gleich noch mal ein Photoshooting. Die Bilder fand ich wirklich süß und manchmal sind zwei Fotos einfach schöner als 20 Paparazzi-Bilder.
And once again a professional Photoshooting. These pictures are really cute. And sometimes two pictures are much more beautiful as 20 candid pictures.
CHLOE SEVIGNY
Und natürlich zählen auch die Fotos von Chloe Sevignys Füßen mit zu meinen persönlichen Highlights des Jahres. Sonst hätte ich sie euch ja nicht schon mit einem eigenen Blogeintrag gewürdigt.
And of course the barefoot pictures of Chloe Sevigny are some of my personal highlights. That is why I posted the full set already in a single blog entry.
Alle Bilder - All Pictures:
Chloe Sevigny@Miami Beach